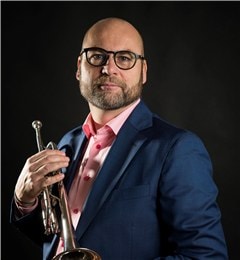 Marcus has played YAMAHA instruments since 2003 after a visit at YAMAHA and Bob Malone in Grand Rapids, Michigan.
He has been contracted as Principal trumpet in the Nordic Chamber Orchestra, Sweden since 1998. He is founder and artistic director of Blekinge International Brass Academy, Sweden www.bibacademy.com
Marcus started playing the trumpet when he was 8 years old. His first professional contact with music was in the Royal Navy Band when he was 15 years old.
He has a Degree of Master of fine arts in Music from the Royal College of Music in Stockholm. At college he studied with Prof. Claes Strömblad and with Prof. Anthony Plog in Freiburg as an exchange student.
As freelancer he has played with most of the orchestras in Sweden such as The Royal Philharmonic Orchestra, Malmö Symphony Orchestra, Swedish Radio Symphony Orchestra, Stockholm Royal Opera Orchestra, Norrlandsoperan, Malmö Opera, Stockholm Sinfonietta amongst others.
Marcus is employed by Musikalliansen which is financed by Government Grants through the Swedish Arts Council www.musikalliansen.se
"Yamaha instruments has an even sound and very good intonation over the entire register, this without compromising of self-shaping the instrument. You achieve your sound ideal in the simplest possible way, and the instruments have good centering and core in tone for a good projection."
Marcus has been YAMAHA Artist since December 2017 and plays: YTR9335CH, YTR9445CH, YTR9636, YTR9820, 948FFMGS, YFH635ST.