The Next Generation of Yamaha SR Loudspeakers - New DZR / DXS XLF (Powered) and CZR / CXS XLF (Passive) Loudspeakers and Subwoofers
The Next Generation of Yamaha SR Loudspeakers - New DZR / DXS XLF (Powered) and CZR / CXS XLF (Passive) Loudspeakers and Subwoofers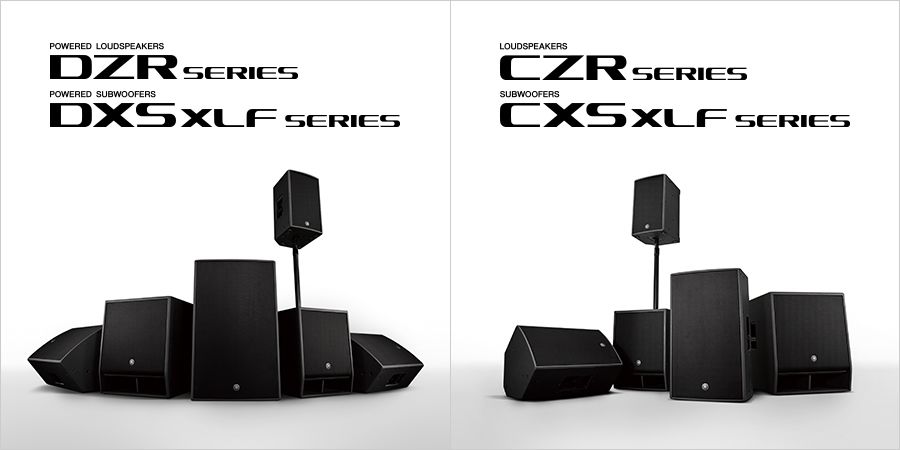 April 10, 2018. Shizuoka, Japan. – Yamaha Corporation announces new additions to the professional audio lineup: the DZR / DXS XLF powered loudspeakers/subwoofers and CZR / CXS XLF loudspeakers/subwoofers.
The new DZR arsenal is comprised of eight full-range DZR models and four subwoofers including "D" versions that feature onboard Dante IN/OUT capability— the DZR315, DZR315-D, DZR15, DZR15-D, DZR12, DZR12-D, DZR10 and DZR10-D for full-range, and DXS18XLF, DXS18XLF-D, DXS15XLF and DXS15XLF-D for subwoofers. Featuring best-in-class SPL performance, sophisticated 96kHz DSP processing, and unrivaled low-frequency sound reproduction, the new DZR realizes professional sound delivered with a considerably higher level of power than their compact, lightweight design would suggest. The new DXS-XLF's can reach an extended low frequency of 30Hz— the lowest of any DXS yet. The CZR / CXS XLF Series share the same cabinet and speaker components offering five passive models capable of very high power-handling and focused, professional sound– the CZR15, CZR12, CZR10, CXS18XLF and CXS15XLF.
The DZR / DXS XLF Series owe their focused powerful sound to 96 kHz DSP processors and the newly developed Advanced FIR-X tuning, an upgrade of Yamaha's proprietary FIR-X tuning technology which utilizes linear phase FIR filters for the crossover network and correct EQ to realize smooth frequency response for impressive clarity without phase distortion. An onboard LCD screen allows users to navigate a variety of DSP functions, load presets, and make precise adjustments to PEQ, delay, and routing. Store up to 8 user presets to save custom parameter adjustments, or use the optimized dedicated factory presets for using DZR and DXS XLF series in combination. A perfect complement to the DZR's versatile cabinet, D-CONTOUR dynamic multi-band processing for consistent sound throughout all output levels with two optimized settings, FOH/ MAIN or MONITOR mode(only for 2-way models). The DXS XLF subwoofers also feature powerful DSP with D-XSUB presets for flexible control of the powerful bottom end, as well as protection circuits that help extend component life and usability. The DZR's power amp features a lightweight 2000W Class-D amplifier module and switching power supply that delivers high fidelity sound at best-in-class SPL.
The new lineup also includes DZR "D" models equipped with Dante I/O out enabling flexible system control and expandability, and system integration with Yamaha consoles and other Dante devices via the Dante I/O (2in/2out) which also features SRC (sample rate conversion) allowing 48kHz device compatibility. Patching is also simplified considerably with Yamaha CL/QL digital mixing consoles from the I/O device display, while TF console users can select Quick Config for surprisingly fast, easy set up and operation of a sophisticated audio system. Additionally, Yamaha's customizable control panel software "ProVisionaire Control" for Windows and "ProVisionaire Touch" for iOS (iPad) are also Dante compatible, adding simpler remote management for sound reinforcement systems.
The DZR lineup features newly developed LF transducers with 3" voice coils for improved bass performance, and for more bass-heavy applications, the new DXS XLF 18" and 15" models match perfectly with the DZR full-range models for a more full, focused, top-to-bottom sound. The HF transducers are comprised of a 2" voice coil and 1" throat compression driver, a titanium diaphragm, and a Neodymium magnet housed in a durable heat–resistant aluminum cast frame. The constant directivity horns were designed to provide smooth, level coverage across the intended area, minimizing roll-off that is common in conventional horn designs. DZR15, DZR12 and DZR10 speakers also feature a rotatable horn allowing vertical or horizontal mounting to further adapt to the acoustic dimensions of a venue. The MF transducers for the 3-way DZR315 models feature an 8" Cone and 1.5" voice coil providing better efficiency and super-low distortion for the low-to-middle frequencies, and contributing to the clarity of the very high 143dB maximum SPL.
The cabinets are constructed from a high grade 15mm thick plywood, and painted with an extremely durable, military grade Polyurea coating. DZR Series loudspeakers also offer plenty of rigging points, allowing for rigged application with standard eyebolts and specialized U-brackets for convenient flying and hanging installation.
The CZR series is a range of passive loudspeakers offering high power handling and superior sound quality in a portable, lightweight, yet rugged design suitable for a wide array of sonic environments. For more bass-heavy applications, adding CXS XLF series subwoofers will extend a sound system's low-frequency performance dramatically down to 29Hz. The CZR series features 15", 12" and 10" models featuring transducers with die-cast aluminum frames with a 3" voice coil for very high power input, and a lightweight yet powerful neodymium magnet. The HF unit produces soaring highs with impressive clarity from its titanium diaphragm with a 2" voice coil and neodymium magnet. Like the DZR, the CZR models also feature the rotatable constant directivity horn design offering more flexibility for rigging and mounting.
"This really was a speaker lineup that only Yamaha could design, due to our breadth of experience in all areas of sound reproduction, acoustics, and digital technology" commented Yoshi Tsugawa, general manager of Yamaha's Pro Audio Division. "Particularly with the integration of Dante networking technology enabling smart, simplified system configuration and operation with industry leading digital consoles, we have not only expanded our range of professional powered loudspeakers, but also updated our pro audio solutions as a whole in order to adapt to the growing demands of today's sound professionals."
The New DZR / DXS XLF and CZR / CXS XLF lineup will make its debut at Pro Light and Sound 2018 and Musikmesse 2018, Frankfurt Germany from April 10th to 14th and will be available from summer 2018 (regular models) and winter 2018 (Dante models).
The Next Generation of Yamaha SR Loudspeakers - New DZR / DXS XLF (Powered) and CZR / CXS XLF (Passive) Loudspeakers and Subwoofers