Expanded Dante Device Support from the Next CL/QL Series Update
Expanded Dante Device Support from the Next CL/QL Series Update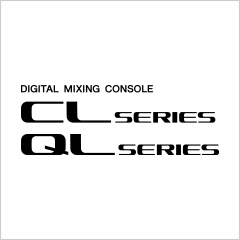 June 7, 2018. Shizuoka, Japan. –  Regular updates have significantly enhanced the convenience and performance of CL and QL series mixers ever since their initial release. As of the next firmware update Yamaha will begin expanding the number of supported Dante devices.
Yamaha CL and QL series digital mixing consoles featuring the Dante audio network protocol by Audinate have become industry standards. The mixing console is the core of just about any sound system, connecting to numerous other devices for audio transfer, monitoring, and control that are essential for overall system operation and flexibility. The upcoming Dante device support expansion has been made possible through cooperation with a number of third-party partners and Nexo, and will significantly enhance the asset value of existing and future CL/QL based systems.
Expanded Dante device support is planned for products from five manufacturers, plus Nexo and Yamaha, covering a total of 10 products such as digital wireless receivers, microphone preamps, processors, and more:
- Rupert Neve Designs RMP-D8 8-Channel Remote Control Dante Mic Pre
- Sennheiser EM6000 Digital Wireless Receiver
- Shure AD4D and AD4Q Axient Digital Wireless Receiver
- Sony DWR-R03D DWX Digital Wireless Receiver
- Stagetec NEXUS(XDIP) Multichannel I/O Board
- Nexo DTD Digital TD Controller and NXAMPMK2 Powered TD Controller
- Yamaha DZR (Dante models) Powered Loudspeakers, MRX7-D and MTX5-D Matrix Processor
The above Dante capable devices will be supported, rolling out gradually as of the next firmware update. Details will be provided in the release notes for the next and subsequent update versions.
According to Yoshi Tsugawa, General Manager of the Yamaha Pro Audio Division, "Yamaha has continued to offer new and convenient solutions through close collaboration with Aviom, Focusrite, Shure and other partners. This announcement takes that collaboration to an even higher level. Digital mixing consoles are expected to take on a much larger role than simply mixing in today's sound systems, and the full breadth of the functionality required cannot be handled by one company alone. All-encompassing solutions would not be possible without the support and cooperation of third parties. Feedback from our valued customers is also a vital ingredient. Driven by the needs of our customers, deeper collaboration with our third-party partners will continue to produce world-class solutions into the future."
Expanded Dante Device Support from the Next CL/QL Series Update