Sound Works Productions Celebrates NYE in Style With NEXO and Yamaha
Sound Works Productions Celebrates NYE in Style With NEXO and Yamaha
Big Night Chicago Heard Loud and Clear
It was a 'big night' in Chicago on New Year's Eve when Sound Works Productions (Frankfort, IL) was hired to provide audio production for a celebratory party held in the Grand Ballroom of the Historic Palmer House Hilton. Billed as Big Night Chicago, the event was attended by over 3,000 who said goodbye to 2014 and rang in 2015.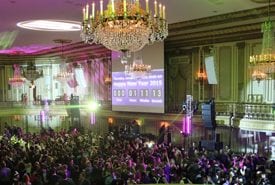 "The Grand Ballroom at the Historic Palmer House Hilton Chicago is a unique space, states Daniel Nickleski, Owner/Director of Operations, Sound Works Productions. For this event, we couldn't hang anything from the ceiling and needed to have a system that was light enough to be supported by ground lifts. The shape of the room is special as well; a large oval room with very high ceilings and a deep rectangular room off the back half.
Performances included DJ duo Brody Jenner and William Lifestyle among others. "With DJs on New Year's Eve, we also needed a rig that has high SPL. The NEXO GEO S12 boxes gave us the lightweight footprint and pattern control, and the RS18's Ray Subs made sure everyone felt the lows." Nickleski said the balance of the coverage was achieved with NEXO PS10s as front fills and delays. The rig was the obvious choice for this event."
A Yamaha LS9 Digital Audio Console performed at front of house with NX Amps handling all of the power and processing.
For more information on Sound Works Productions, visit
Sound Works Productions Celebrates NYE in Style With NEXO and Yamaha