Yamaha Launches New HS MP models powered monitor speakers.
Yamaha Launches New HS MP models powered monitor speakers.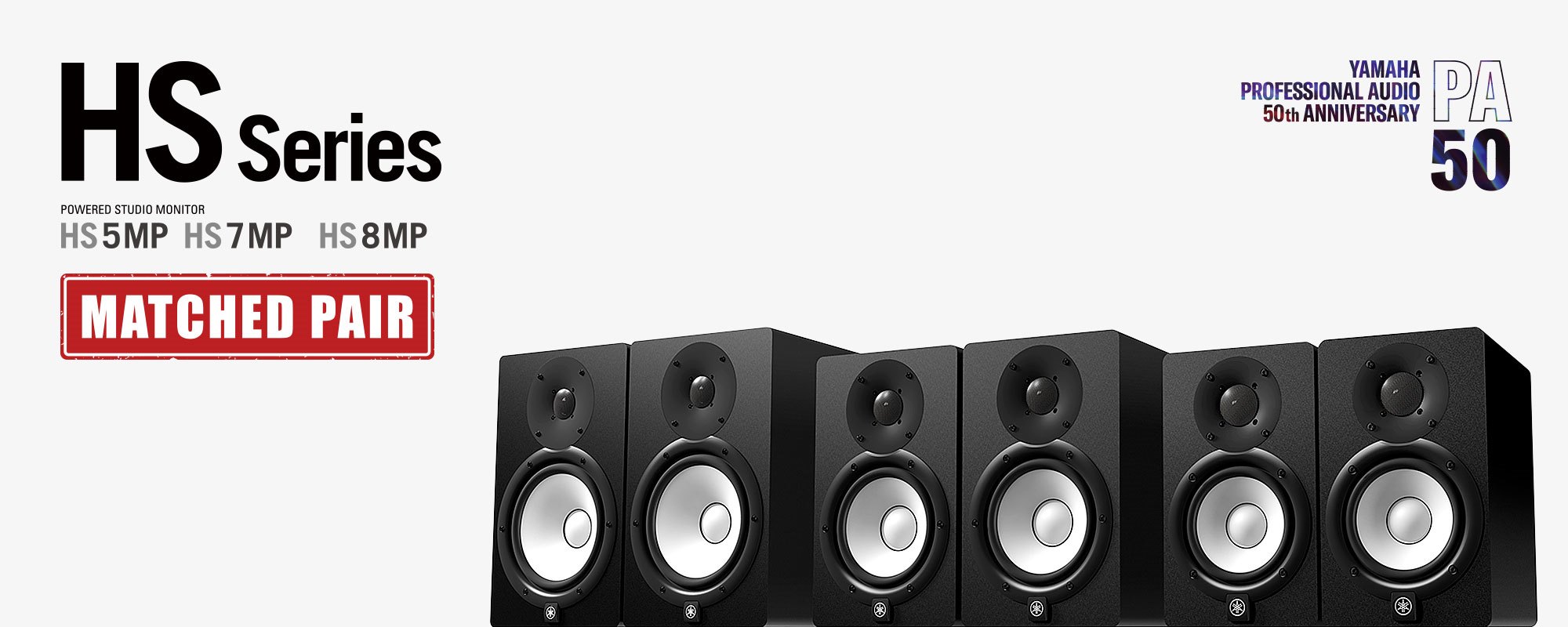 It has been 15 years since Yamaha introduced the HS series of powered studio monitors to the market. Since that time, the HS series has become a favorite for use in near-field applications for both professional and home studio environments. Today, we are announcing the special edition "HS MP models", HS5 MP, HS7 MP, and HS8 MP, to commemorate the 50th Anniversary of Yamaha Pro Audio.
Yamaha Pro Audio has a history of innovation that goes back to 1969. Starting with the release of the VA120 vocal amp systems, Yamaha continually aimed to expand their pro audio offerings to service a wide range of applications including broadcast studios to commercial spaces, resulting in generations of class-leading mixing consoles, power amplifiers, speakers and signal processors.
For Yamaha, studio monitors had the most significant pop culture impact on this fifty-year history. Starting with the "NS10M STUDIO" in 1977, Yamaha monitors essentially defined the look and the sound preferred by engineers in studios around the globe. Then in 1998, released the "MSP5" powered studio monitor to expand our offering into more critical listening environments where even more faithful reproduction of the original sound was required. From 2000 to 2008, this model expanded into the MSP/MSP Studio Series by utilizing the latest technological advancements in order to meet our customers ever evolving needs, resulting in the sonic accuracy of this line that stands as our flagship to this day.
Yamaha has always insisted on complete fidelity to the original sound and the ability to reproduce the subtle changes of tone and position in the mix, and these principles are exemplified in the HS series that appeared in 2005 with its bright white woofer cones. As high-bit and high-sampling-rate continue as trends in the field of music production, leading to an increasing need for high-quality nearfield monitors, these speakers deliver the high-quality sound and accuracy that are ideal for the studio environment.
Then in 2013, fusing the know-how and cutting-edge analysis technology that we have developed through many years of studio monitor design, and carefully rethinking every element, we announced the next-generation HS series which added yet more polish to the accuracy of these speakers. Offered also as the HS-I, Yamaha equipped the enclosure with rigging points and the capability of using speaker brackets that allow mounting on a wall, ceiling, or baton mount for improved convenience of installation in a commercial production studio or in the sound room of a hall. With the expanded assortment and options of the current HS Series, our monitors now meet the demanding needs of a greater number of customers' sonic and aesthetic needs.
2019 Yamaha marked the 50th Anniversary of the Pro Audio division by offering a special limited-edition model: the "HS MP models". Maintaining the same rigorous design principles that have guided the Yamaha design legacy, the HS MP ships in a paired carton adorned with a "MP" (Matched Pair) sticker, including speakers with matching serial numbers and a special production process utilizing specially selected parts. We are confident that this special edition will have that extra detail that will assist the optimal delivery of your next project.
Yamaha Launches New HS MP models powered monitor speakers.