RIVAGE PM5 Delivers Magical Sound For Harry Potter and the Cursed Child in Tokyo
RIVAGE PM5 Delivers Magical Sound For Harry Potter and the Cursed Child in Tokyo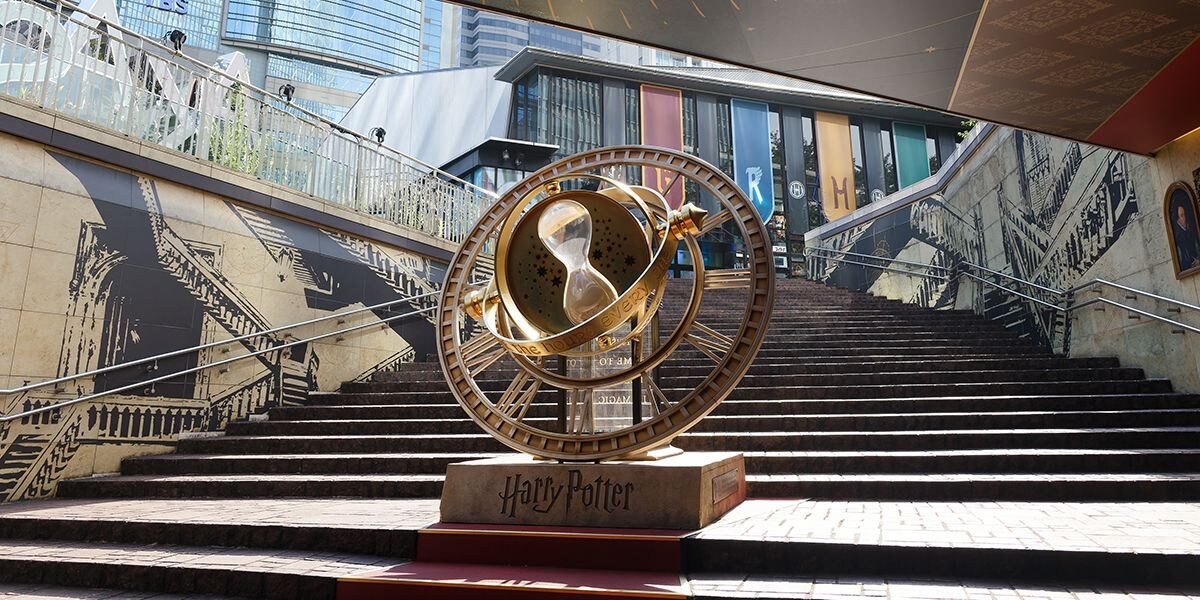 Since its world premiere in 2016, Harry Potter and the Cursed Child has been a worldwide hit in London's West End, on Broadway, in Hamburg, Melbourne, San Francisco and Toronto. For the latest production, which opened at Tokyo's TBS Akasaka ACT Theatre in July 2023, the show's Olivier and Tony award-winning sound designer Gareth Fry has trusted a Yamaha RIVAGE PM5 digital mixing system to handle a globally popular production, which previously needed two mixing surfaces.
The production features more than 150 inputs, approximately 50 microphone inputs and 80 channels of playback, with around 500 cues. All inputs are digital - each microphone feed being converted from analogue at the wireless transmitter, with the audio processing fully digital until the sound leaves the amplifiers for the PA system. Previous productions of the play saw sound effects and music mixed on a Yamaha CL5 digital console, with the cast microphones mixed on a separate console.
Key to the new production was the RIVAGE PM series' advanced theatre software, which offers a number of advantages to theatre sound designers.
"The RIVAGE PM5 combines the features we liked about both previous consoles. One is the benefit of running it in dual monitor mode," says Gareth. "It means the SFX operator can use the left fader bank of the control surface and the microphone mixer can use the rest. It made for a much simpler overall signal flow and we were also able to reduce our seat kill considerably."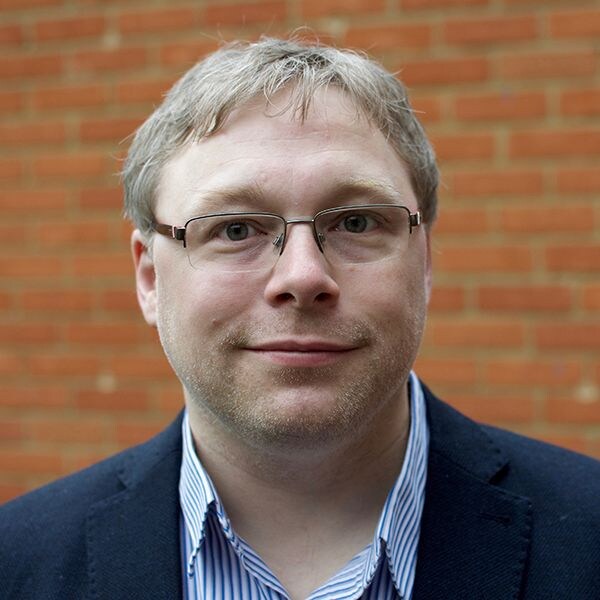 Another notable advantage is the performer library, which allows for instant changing of microphone and mix settings.
"Post-Covid, we've noticed that cast members are being more mindful of their health and their potential effect on other cast members. This is a really positive change and it's essential for their long term wellbeing which, particularly on a long running show, also benefits the production," says Gareth.
"Cursed Child has a relatively large cast which means that, at any given performance, there will be an average of around five cast members on leave, ill or who have minor injuries. There are between three and five performers who can cover each of the principal roles, so it's essential to be able to easily alter the microphone programming to accommodate who is playing which role on a show by show basis. The theatre software makes that possible and also enables us to deal quickly with other common problems, like the EQ of the mic changing when a hat is taken on and off."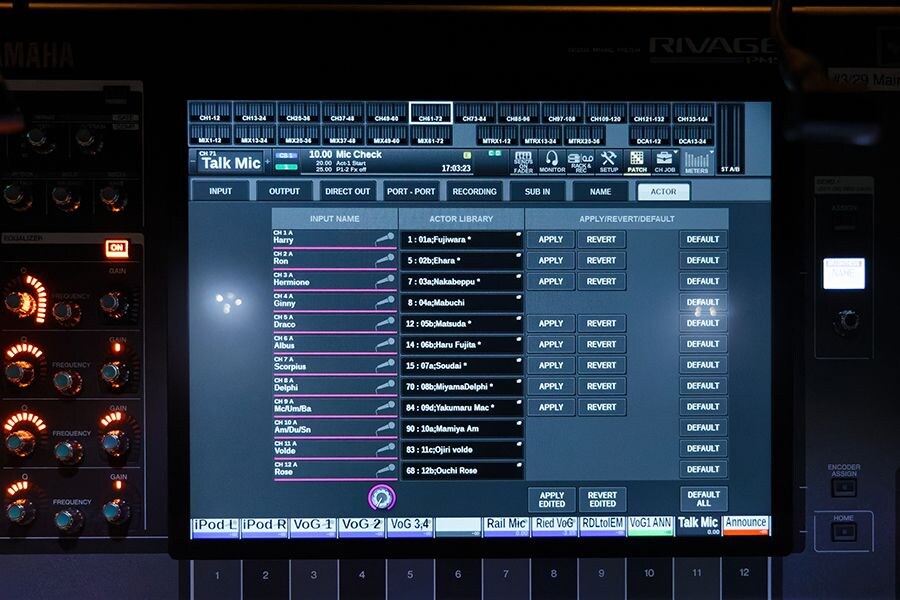 One of many challenges for the production was developing it in different locations across the world. With several audio teams involved, another advantage of a Yamaha solution was the consistency of user interface.
"If you're familiar with even a Yamaha QL1, it isn't hard to get up and going on the biggest RIVAGE PM control surface," says Gareth. "Of course the RIVAGE PM systems have more features and greater complexity, but there is that fundamental similarity across the entire family of Yamaha systems which gives users a head start.
"While Tokyo was rehearsing and teching, we were simultaneously re-opening the show as a new one-part version in Melbourne and opening a new production in Toronto. We have local teams running the sound in each country and, as a relatively small design department, we were stretching ourselves across three continents at once!"
With the RIVAGE PM5 in Tokyo and a RIVAGE PM7 on the Toronto production, it was therefore important that both the design and sound teams were up to speed on the operating system as quickly as possible.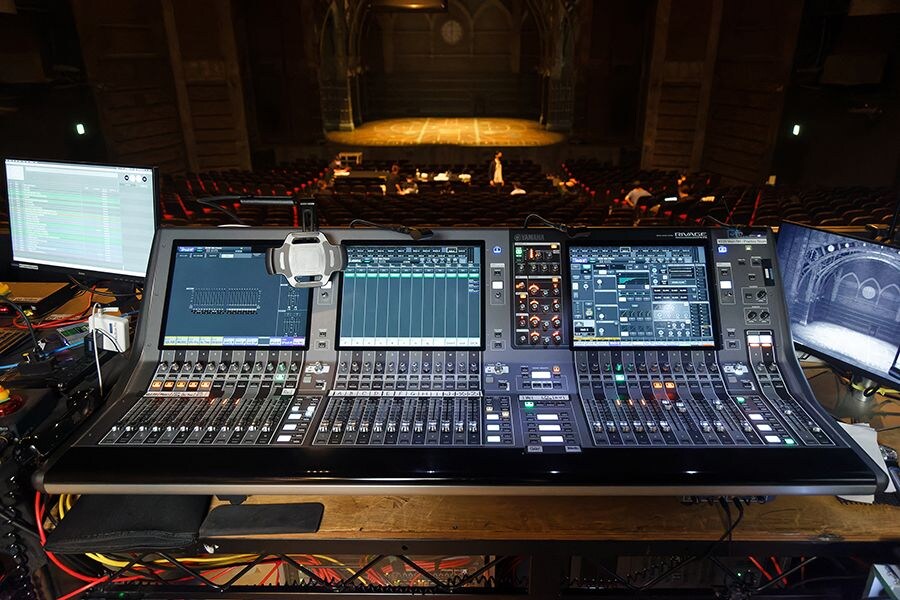 "Yamaha UK was very helpful with additional training for me and (international sound design associate) Pete Malkin, which taught us a lot about how to harness the extra RIVAGE PM features in the system design," says Gareth. "It also helped Pete to build the show file, using the offline editor software. We were then able to share what we'd learned with the sound teams, along with some very helpful YouTube tutorials, to bring them up to speed."
He continues, "I ended up jumping from Melbourne to Toronto to Tokyo over the course of six weeks for the final dress rehearsals and early previews of each production. Pete, David Tonion (Melbourne sound design associate) and Will Pickens (Toronto sound design associate) had done an amazing job in making them all sound great in what are vastly differently shaped auditoriums. We also found the RIVAGE PM StageMix iPad app very useful for members of the design team for moving around the auditoriums and onstage to make changes."
Another advantage of the RIVAGE PM system was savings on hardware which, at the time, involved more challenges than just FoH real estate.
"We were putting the Tokyo and Toronto productions together in early-mid 2022, at the height of supply chain shortages, so it was very difficult to source a lot of the equipment we required. While we were able to keep the core system to what we wanted, we were having to substitute many known ancillary items of kit to unknown and hopefully equivalent models!" says Gareth.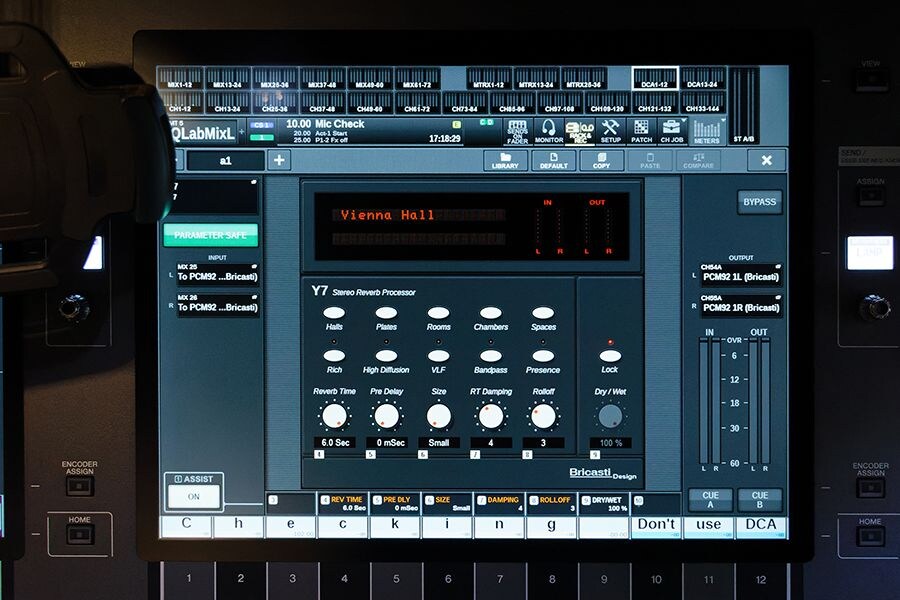 "For me, mixing desks never had good sounding built-in reverbs before now, but the RIVAGE PM's Bricasti reverb sounds great. I normally use a bank of hardware Lexicon reverb units, but after hearing the Bricasti I was happy to use those instead. It was also one less element of the ancillary gear to worry about!
He continues, "One of the big challenges of a complex sound system that uses networked audio is that the physical network connections have no relationship to how audio is flowing between multiple devices, so you can't tell what is going on by looking at how a system is physically connected together any more. Communicating that in itself is tricky, let alone when everything needs to be translated into a different language. I wrote a 112 page document to explain how the show goes together and how the various audio and control systems work together to help the Japanese team understand what was going on within the system.
"Fortunately, thanks to the preparation of everyone involved, assembling the system was relatively smooth. The Japanese sound team and hire companies were great to work with, the only main difference with working in Japan is that comms, video relay and all that infrastructure isn't done by the sound department. I've always kept my paperwork for the sound and other systems separate, so that wasn't an issue.
"Indeed, it highlights how one of the most interesting things about working across the globe is seeing how different cultures approach the challenges in theatre differently."
Interview with the Japanese audio team on Harry Potter and the Cursed Child
"This production of Harry Potter and the Cursed Child requires far more inputs than previous theatre productions at the TBS Akasaka ACT Theatre, so the ability of one RIVAGE PM5, with its large mixing capacity, to handle all the inputs and outputs was very important," says Satoshi Tateishi of Office Shin-On Ltd, who is the production's local associate sound designer. "Having only one mixing surface saved space in the sound booth and made it easier to manage."
One difference for the Japanese team was working with an all-digital Dante network. "We asked the sound designers for an audio flow and connection schematic, but they didn't have the kind of diagrams we are used to. What we got was something more like a network system diagram," says Hideo Sato, Executive Officer of S.C. Alliance Inc, who was in charge of building the system.
"Otherwise the ideas and techniques of the sound production are basically the same. However, the amount of time a particular show will play in a theatre overseas is typically longer than in Japan, where a long-running production might only last up to a year. This production of Harry Potter and the Cursed Child will run a lot longer, which means it is more of a semi-permanent installation than a temporary one, so we had several months of fit-up before the show opened, which gave us a lot of time to work on the system."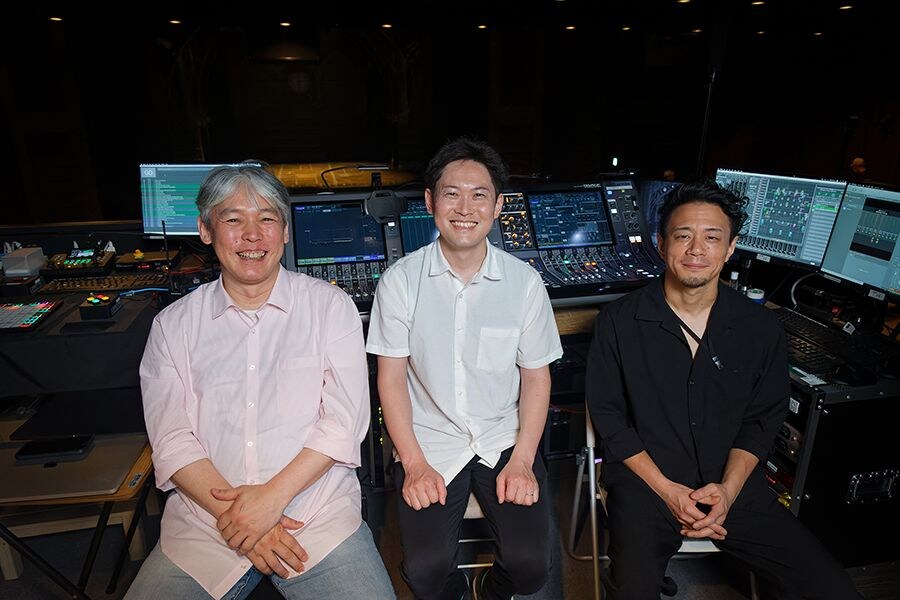 In terms of operating the RIVAGE PM5, Mr Tateishi is full of praise, echoing Gareth Fry's sentiments. "The theatre software is very useful. This production has two or even three different actors for the same character and they can change for every performance. With the theatre mode's performer library, you can instantly switch the settings for different actors on the channel for that character. Without that function, I don't think this production would have been possible, and I think the theatre software was an important reason for choosing the RIVAGE PM5."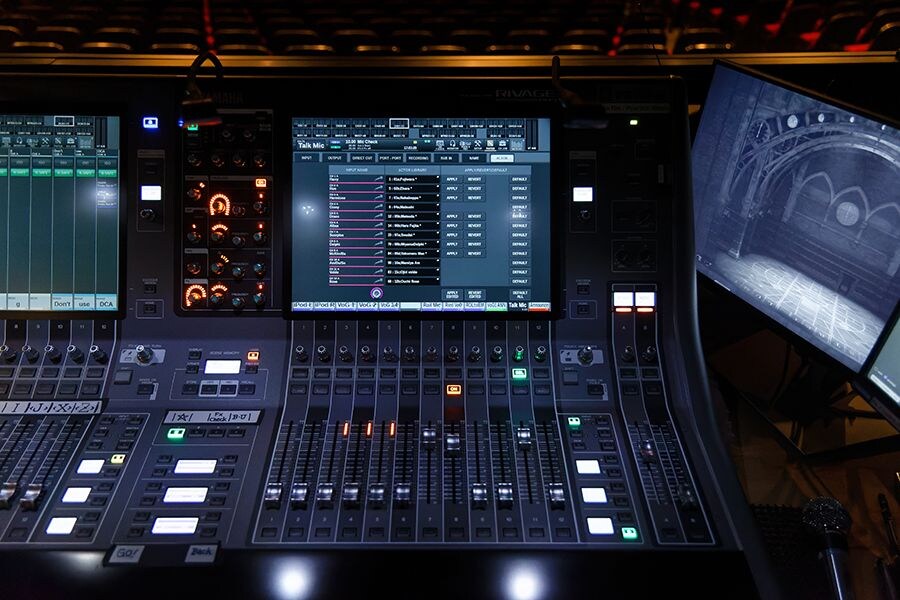 He continues, "The A/B switching is another indispensable feature. The principal cast members all have two wireless transmitter frequencies. If one has problems, the A/B instantly switches to the other. On this production, some cast members dive into water while wearing microphones, so issues occur quite often. I wonder what we would have done without this function?"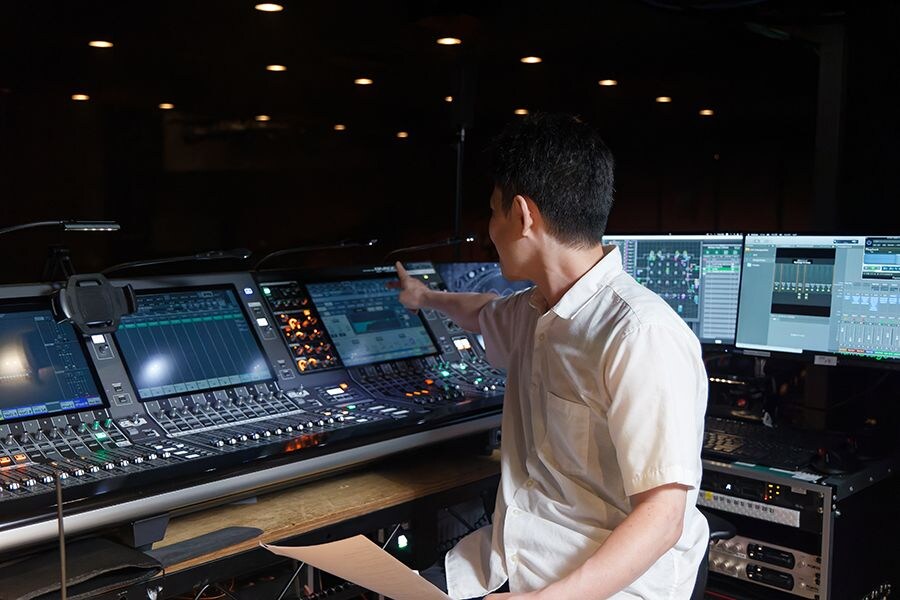 Mr Tateishi notes that he would like to try the system's extensive plug-in effects on other productions. "In theatre, I use a lot of foot and shotgun microphones, and I'd like to utilise the Dan Dugan auto mixer and DaNSe automatic noise suppression with those. Also, the Bricasti reverb sounds great, so I'd love to use that on other shows," he says.
As for the sound on Harry Potter and the Cursed Child, he is equally happy. "The sound quality is extremely clear, there is almost no noise," he says. "Just by turning up the DCA for the playback sound, about 60 channels come up, and there are always at least 10 microphone inputs going up in real time. Even with so many faders up, the signal to noise ratio is never a problem. This is the big benefit of a fully-digital production."
With the Japanese production set to run to at least the end of 2023 - and almost certainly well into 2024 - the local sound team and the RIVAGE PM5 system will be mixing the magic of Hogwarts for some time to come.
"It's going to be quite a long run," laughs Mr Tateishi. "So I bought a subscription ticket!"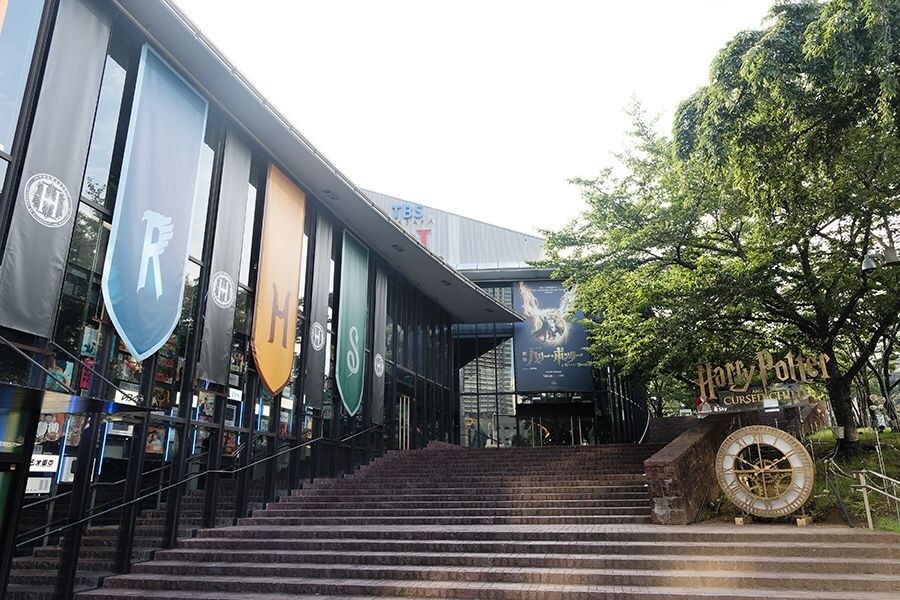 RIVAGE PM5 Delivers Magical Sound For Harry Potter and the Cursed Child in Tokyo