Biography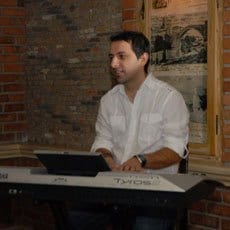 Alen Golos was born in Mostar,Bosnia and Herzegovina in 1976.
He started playing the accordion and piano with 10 years in elementary music school in Mostar..
At the time it occurred, and the first encounter with keyboards and Yamaha model PSR 510.
During the war in Bosnia and Herzegovina, he played a lot of concerts that were organized in order to prevent conflict and the signing of the peace among the warring parties..
After the war he enrolled pedagogical musical academy where he completed a successful two years of study.
In this period are actively engaged with their live performances with many well-known artists from this region as well as from neighboring Serbia and Croatian such as Halid Beslic, Amir Kazic Leo, Dragan Kojic Keba and others.
Since 2007 he has collaborated with well-known performer of spiritual music Zejd Soto with which visiting all the main European cities and held a number of concerts.Greatest popularity experienced in Turkey and Slovenia, where a large community of Bosnian people.
During the tour he met a large number of domestic and foreign musicians from the folk and spiritual music, with whom he has collaborated as a pianist and keyboardist.
Since October 2007, has been employed by the firm Promet-tehno Mostar as branch manager. From that day becomes a loyal Yamaha's brand and starts playing the Tyros arranger model, first Tyros 2 and Tyros 3 later today playing on Tyros 4 model.
Actively participate in the project voice expansion packs for the Yamaha PSR A-2000 and PSR S650 as an assistant and demonstrator for the Balkans packs.
Now playing actively with a number of artists from the region and works as a studio musician, arranger and composer.
Employment: Promet-Tehno Mostar