Biography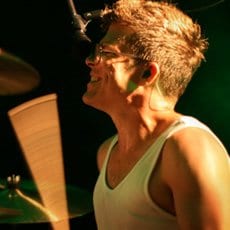 Lukas started playing drums with 6 at a marching band. He performed early with rock- and punk bands as well as with a big-band and jazz-ensembles.
After studying classical music at the J.J. Fux Conservatory in Graz he moved to Vienna to study jazz-drums at Michael Prowaznik, Björn Klein and Christian Mühlbacher.
He performed as a live- and stuio-drummer, arranged songs for singers and composed music for computer games as well as for theatre and films. In that time he worked allot with the later WANDA-producer Paul Gallister.
Therefore he soon met Marco Michael – the singer and songwriter. In 2013 they started to play together with the name "WANDA".
WANDAs first album "AMORE" achieved double-platin status in Austria. Four months after release the band was nominated five times for the Austrian "Amadeus award" and won in two categories. They released their new Album "Bussi" in October 2015 by Vertigo-Universal Germany. With the hit-single "Bussi Baby" the album achieved also double-platin status in Austria and soon it will be gold in Germany. WANDA won 4 Amadeus-Awards 2016.
The band played more than 300 concerts with both albums in Austria and Germany. The concert in the Vienna Stadthalle in front of 12.000 people in April 2016 has been released as a live album. The new album "Niente" will be released in October 2017.
Educational Facts:
2011 - Studies: Musicology at the university of Vienna
2010 - Studies: Classical Composition at the University of Vienna
2010 - Diploma in "Jazz - Drums"
2006 - Studies: "Jazz - Drums" at the Gustav Mahler Conservatory
2004 - Studies: "Classical Music" at the J.J. Fuchs Conservatory Graz
2004 - School -leaving-examination at the "Stiftsgymnasium Admont"