Biography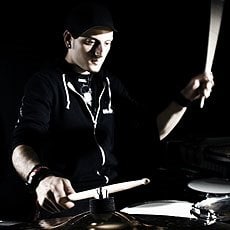 MERLIN ETTORE: drums, live electronics
Merlin Ettore (est. 1984), third generation percussionist, is a hybrid artist performing in a frenetic, jaw dropping yet clearly genetic style.
1986: Merlin, age 2, destroys his mother's kitchenware with makeshift drumsticks.
1996: Merlin, age 12, plays his first professional gig.
2006: Merlin, age 22, has released his first album, played his fourth canadian tour, and is planning his third european.
2007: Merlin's drumming wizardry puzzles and astonishes peers, audiences and collaborators.
Collaborators, on stage and in studio, include:
Quebec percussion superstar Luc Boivin, jazz legend Guy Nadon, Frank Zappa's keyboardist Don Preston , the bandProject Object , Groove master made in Germany Dirk Erchinger, King Crimson drummer Pat Mastelotto , contemporary music composer Denis Gougeon, world renowned installation artists Dejode / Lacombe , and sound architectNick Bugayev.
Merlin has played in a bass and drum duo called Metrik. They have relased an album in 2005 and have toured Canada, U.S and Europe.
His previous project, furious percussion duo Blandilo , has been invited to appear at the Montreal Drumfest 2007 and at the Montreal Museum of Modern Art. They have released an EP in January 2008.
His Latest international project[trap.], recently based in Berlin, got an impressive amount of attention from fans and media in very short laps of time.
After less than 1 year of existence, they have over 25.000 video plays over more than 75 uploaded videos by fans, got invited by major radio stations for interviews and live in studio sets and have recently released their debutEP "Drop the Weapon".