Adjustment features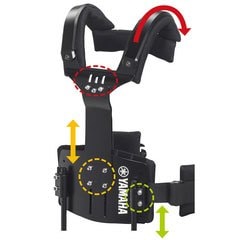 Adjustment mechanisms provided for the belly plate, chest plate, and arm attachment sections make it easy to achieve an optimum fit for users with a wide range of body shapes, while also allowing easy adjustment of instrument height to suit personal preference and maximize playability.
High-performance pads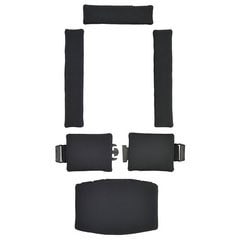 To improve fit and comfort the belly pad, shoulder pads, and waist belt employ a high-resilience pad material. With high reliability and minimal degradation over time, plus excellent antibacterial properties, this same material is used for medical applications where quality is critical. Hook-and-loop fasteners allow easy removal and reattachment for laundering at home.
Waist belt with quick-action buckle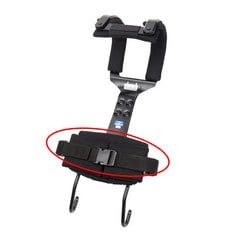 In addition to being supported on the player's shoulders, a waist belt that adds extra support and stability is provided. The instrument is stably held to ensure consistent playability even through dynamic marching and dance moves. The belt and pads significantly reduce stress on the user's body, reducing fatigue during long practice sessions and performances. A central quick-action buckle makes attachment and detachment easy, and hook-and-loop fasteners are provided to secure excess belt material during use.
Memory clamps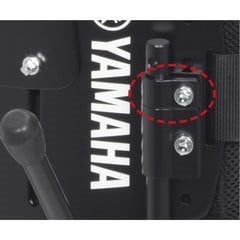 Once the angle and height of the arms are set as required, the memory clamps retain those settings even when the arms are folded for storage. Ideal angle and height can be quickly restored the next time the carrier is used. It is also easy to adjust height even after the arm angles have been set.
Aluminum arms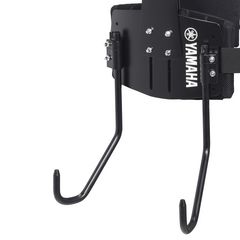 New aluminum arms replace the conventional steel types, for a significant reduction in weight. Arm diameter has been increased from 12 to 14 millimeters to ensure ample strength for a range of instruments. The arms are finished in black to match the rest of the carrier.
Regular and small size differences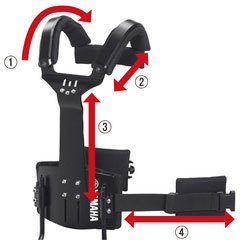 There are four main differences between the standard and small carrier sizes: Shoulder support radius and depth (1 and 2 in the photo), chest and belly plate linkage length (3 in the photo), and waist belt length (4 in the photo). All other parts and dimensions are the same.
Instrument angle adjustment screw (MSH, MKH)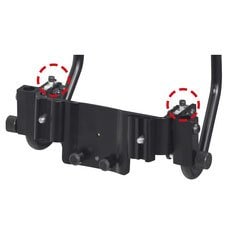 In previous models it was necessary to remove the instrument from the carrier in order to change its angle. In the new model an adjustment screw allows the angle of the playing surface to be adjusted as required while the instrument remains attached to the carrier.