Concept
A message to Pianists
When do you, as a pianist, feel elation? Is it in that instant when you see a score for the first time, and feel the inspirations of the composer bloom inside your mind?
It might be when you're up on stage playing a grand piano that projects every aspect of your sound, bathed in a shower of applause from an appreciative audience.
Call it accomplishment, call it exultation - we're certain that you've experienced your share of such moments.
But above all, there is that incomparable joy you feel in those moments when you sit at your piano.
Those instants when, threading the fragments of your imagination together as sound, you become at one with the instrument; those treasured moments of delight for all who love the piano, regardless of their skill or experience.
It's why we believe that you can spend so much of your life in front of the piano.View All
At Yamaha, our desire is to craft pianos that bring a little more of this joy to as many people as possible.
This is a treasured ideal that we have long held dear and one we have now transformed into a new piano.
Meditating on those hours of happiness, those indescribable moments of joy experienced at a piano, we decided to do our best to respond to your desires and aspirations for this instrument.
AvantGrand. A new identity for the piano, born from the fusion of twenty-first century technology and more than a century of piano-crafting experience.
The blissful moment when you and the piano resonate as one.... is here.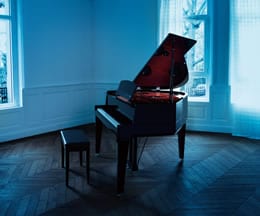 Playing the piano - freeing the pianist of all limitations.
And then, the joy of transforming the act of playing into something new...
To play when you want, how you want, as much as you want.
For those that love the piano, this is an extravagance above all else, something that all pianists yearn for.
In reality playing the piano brings with it many limits.
Beyond the physical issues of time to play and a place for the instrument, there are the fine nuances, particularly with the grand piano, of touch, tone, and reverberation, that contribute to the true thrill of playing the piano.View All
At Yamaha, we hope to offer the best sound we can to as many people as possible.
We have held this goal unchanged throughout our history of over a century of piano making.
Together with the know-how and inspiration gleaned from each new experience, along with the new technologies that have emerged over the years, this goal has taken us closer to our pictured ideal and seen with it the manufacture of a multitude of different pianos.
So what features does a piano have that make it essential in the lives of you, the people who possess both an unreserved love for playing the piano and an awareness of its essential excellence?
The AvantGrand emerged from our desire to relook at these elements.
We took the techniques we had cultivated making keyboards and pedals for acoustic pianos and combined them with the latest digital and acoustic technology, driven by the belief that the resulting instrument would be a model for how a piano should be in the modern age.
Innovation born from a thorough knowledge of the true soul of the piano, brought to the fore.
Everything you need, right in front of you.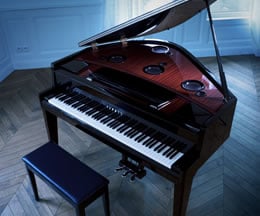 Ideas and technologies that unify tradition and innovation.
A piano evolved for the modern age.
Not creating a piano, but rediscovering one.
This, summed up in a single phrase, was the concept behind the development of the AvantGrand.
Making a so-called "acoustic" piano requires extensive technique and know-how, qualities accumulated through our many years of experience.
However, a major theme in the creation of the AvantGrand involved consciously refraining from relying on this experience.
Rather than designing from a standpoint of what a piano must be, we gave priority to looking at what it could be, searching for the kind of instrument that would suggest a new direction for the piano..View All
For Yamaha, with our history of over a century of piano crafting, it was digital technology that provided the impetus for such an outlook, giving us the confidence that we had matured enough as craftsmen to be able to give life to the ideals we had pictured in our minds.
In creating a digital piano that presented the piano as a more informal and enjoyable instrument, we had many expectations for its sound that had to be fulfilled in the initial stages of development.
It is no exaggeration to say that digital technology evolves in the blink of an eye.
We felt that developing an instrument that took two major trends in the piano world to create a fusion, in the truest sense of the word, was a task that we simply had to complete.
Even with our history in making both digital and acoustic pianos, it was a feat that took everything that we at Yamaha knew to accomplish.
The AvantGrand is the crystallization of our hopes for the piano, something which cannot be summarized by simply calling it a hybrid of the digital and acoustic.
It was our superlative knowledge of the piano that supported this bold endeavor; that, and the bond we feel with you, with your enduring love for the piano.