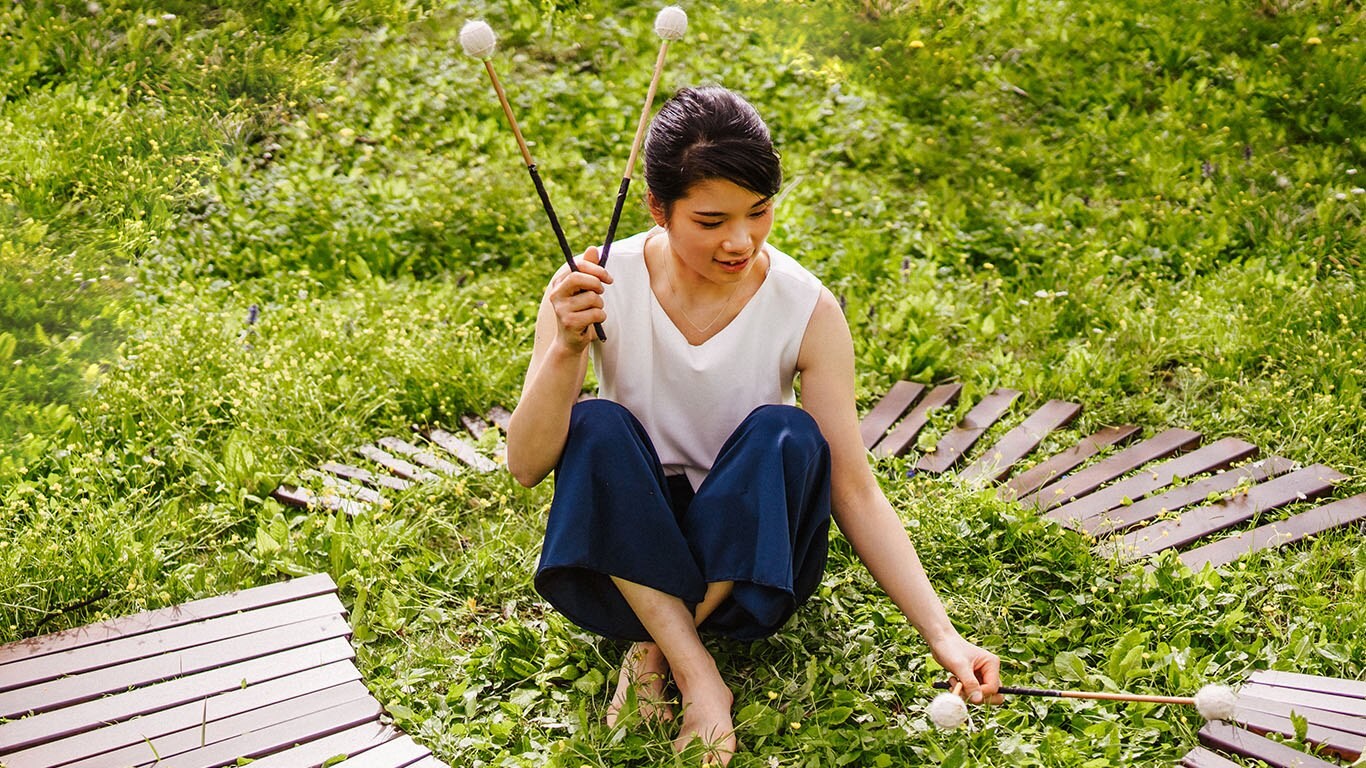 With a network of Artist Centres and Ateliers around the world, Yamaha works with leading players to support their performances and develop instrument designs and new ideas for the benefit of all musicians. Yamaha Artists share with us a passion for inspiring the next generation of players, and a belief that everybody should be encouraged to nurture their talent, connect with others and tell their stories through music.
Get to know percussionist and Yamaha Artist Nozomi Hiwatashi
Statement about your relation with Yamaha or your instrument:
To me, my instrument is a treasure that allows me to express my thoughts and feelings. Through my instrument I can say things that can't be nuanced well enough with words. Especially Yamaha instruments have an extremely broad spectrum of tone colour which expands the possibilities of musical expression and most importantly it acts as my 'voice' when I play it.
How does your instrument help you in your daily life as an artist?
As I also mentioned above, the marimba has become my "voice", an integral part of my body. Through the instrument, I am able to recognise and organise my thoughts and emotions of each day. Just like how I feel differently from day to day, my sound is different every day and it is as if it is a living being inside me. Furthermore, there are countless number of percussion instruments which talk to each other through the sounds I make with them. I can hear an infinite variation of these "conversations" that stay close to me and make my everyday life that much more fun.
How would you characterise your instrument?
The characteristics of Yamaha instruments are its wide range of timbre that is available to the performer which allows us to easily express the subtle changes in themusical temperature and nuance within the music. It also goes without saying that the craftsmanship in Yamaha instruments makes them extremely reliable not only in its playability but also its build quality meaning that I can rely on it working perfectly every single time, wherever I take it.
Who was your most influential teacher and is there any advice which you still follow?
This would have to be Mrs Momoko Kamiya, my professor from when I was still at the Tokyo College of Music. She always said that the most important thing in music making is "Love and Peace". She always told me that the instruments themselves are different from day to day and that we must always listen to what the instrument is saying with a clear mind. I used to focus a lot on technically difficult pieces because it was so fun to be able to play them but I didn't pay much attention to the tone or the sound. One day Mrs Kamiya said "Take a step back and really listen to the sound of the instrument. Just let the mallet fall on to the keys, then, you'll be able to hear the natural warmth of the wood and the sound will become heartful". As I began to listen to the instruments more, I became able to understand the character of each instrument and adapt to the characteristics of each manufacturer. Through this, I came to realise that Yamaha instruments allow me to achieve the sound I am looking for the best.
Advice for young musicians
'Act! as soon as you think of something.' This is a mindset I keep close to my heart from day to day. Of course, in real life it's not that easy and difficulties such as finance, the surrounding situation, or simply poor timing, can get in the way. But I believe there is a lot of energy in you at the moment you think "I want to do this!" and I believe that this energy can lead to enormous forward moving motion. Also, don't forget to enjoy music from the bottom of your heart!
About Nozomi Hiwatashi
Nozomi Hiwatashi is a postgraduate student and freelancer.
She plays YM-5100A, YV-3710JM and YM-400C.