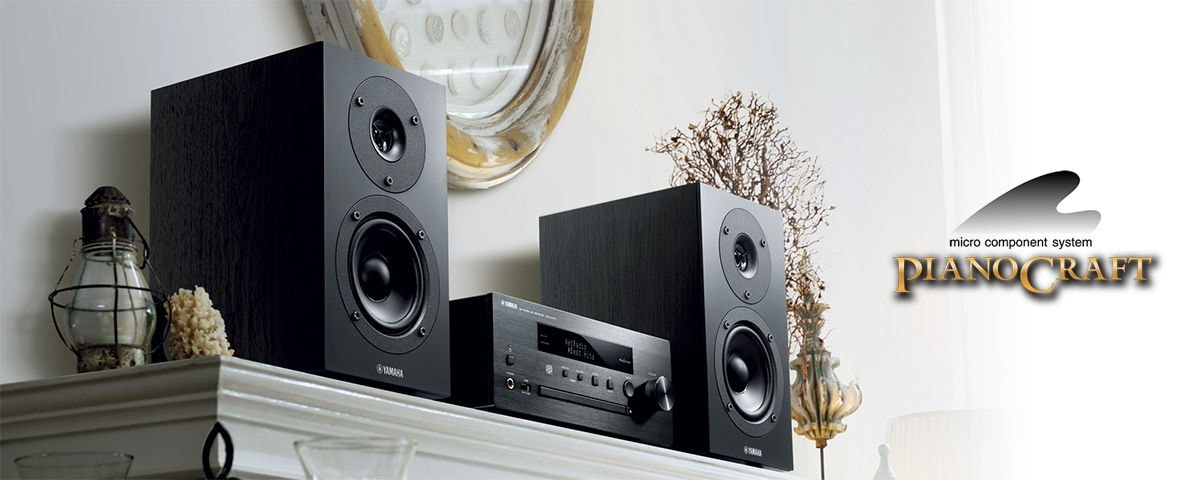 Traditional Appearance, with Plentiful Functions
You'll enjoy a wide range of sources and functions, from CD, USB and radio to the latest versions of Wi-Fi, MusicCast, AirPlay® and Bluetooth®. Not only convenience, you get all the high sound quality you demand. Support for MusicCast means you can always enjoy your favourite music. And by adding other MusicCast compatible components, you expand your musical enjoyment even further.
You'll enjoy a wide range of sources and functions, from CD, USB and radio to the latest versions of Wi-Fi, MusicCast, AirPlay® and Bluetooth®. Not only convenience, you get all the high sound quality you demand.
MusicCast for audio enjoyment in every room
Support for internet radio and various music streaming services
* Music service availability varies by region and may change or be discontinued without notice.
Aluminium front panel with hairline finish
High performance speaker with VCCS (Vibration Control Cabinet Structure) technology
Supports 192 kHz/24-bit High Resolution Music (Flac / WAV / AIFF)
Bluetooth® for wireless music streaming
Supports Bluetooth output for pairing MCR-N470 and other Bluetooth equipped products
AirPlay® allows music streaming from Mac, PC, iPod®, iPhone®, iPad®
Control app for easy operations (MusicCast CONTROLLER)
Front USB terminal for playback of USB memory (mass storage class)
MusicCast
MusicCast ist eine Revolution des vernetzten Audios. Nutzen Sie alle Ihre MusicCast-Produkte gemeinsam oder einzeln – ganz wie Sie wollen. Die Steuerung erfolgt über eine einzelne App, die für schnelle, einfache und intuitive Bedienung gestaltet wurde. Ihnen stehen auf Wunsch Soundbars, Netzwerklautsprecher, Heimkinosysteme oder Hi-Fi- Systeme zur Verfügung. Stellen Sie die Komponenten zusammen, die am besten zu Ihrem Lebensstil passen, und erweitern Sie Ihr MusicCast-System im Laufe der Zeit. Das kabellose MusicCast-System, die neueste Schöpfung von Yamaha, liefert alles für jeden, überall hin.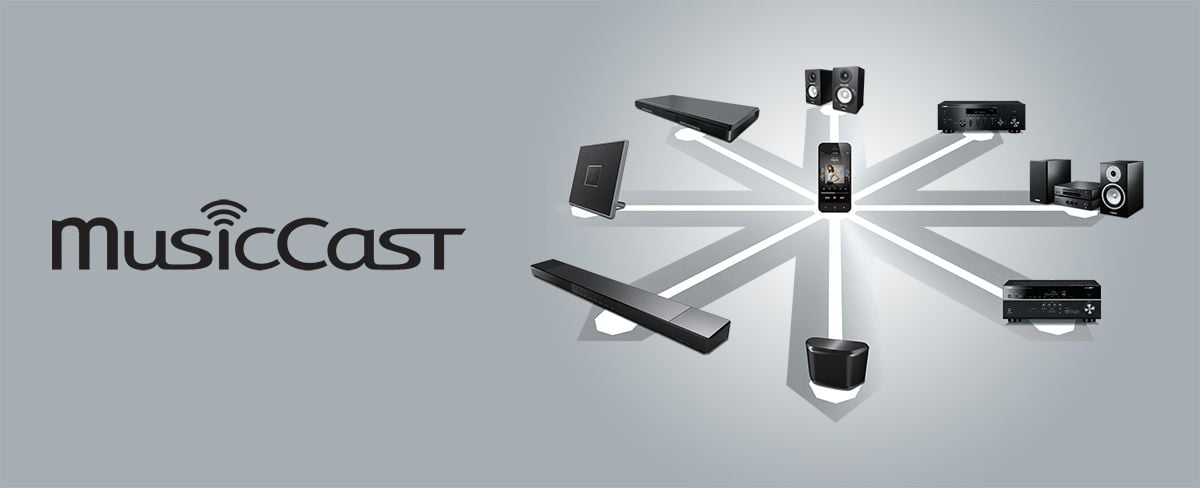 Enjoy All Your Music Sources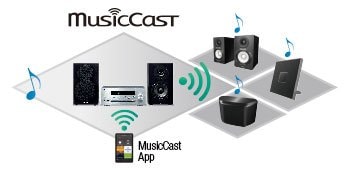 MusicCast employs a high performance wireless network to deliver music and audio enjoyment. It can stream digital music content from your smartphone, PC or NAS to other MusicCast devices in your home. Audio content from Bluetooth-connected smartphones or tablets can also be streamed to MusicCast devices in multiple rooms.
Sophisticated Appearance
The MCR-N470 maintains the design image of Yamaha Hi-Fi components, presenting an extremely high-class, sophisticated appearance. The centre unit has a front panel made of high-grade aluminium with a hairline finish that looks clean and elegant. Adding this stylish system to your audio room will increase your listening pleasure.

A Digital Amplifier that Fully Inherits the Yamaha Hi-Fi Concept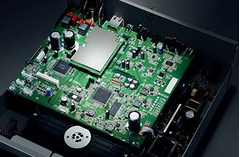 The MCR-N470 features Yamaha's own high efficiency digital amplifier technology to provide lossless high fidelity digital audio playback whether from network audio, USB or CD. Its circuit design fully inherits the Yamaha Hi-Fi concept, with a minimised signal path and thorough elimination of mutual audio signal interference helping you enjoy high quality sound from a wide range of sources from music CDs to hi-resolution audio format.
VCCS Vibration Control Cabinet Structure Technology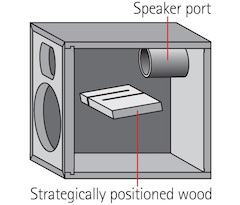 To prevent unwanted cabinet vibration, Yamaha developed an internal structure called VCCS (Vibration Control Cabinet Structure) that uses strategically placed pieces of a composite material providing excellent vibration isolation performance. In addition, three legs provide additional shock absorption, considerably enhancing sound quality. The speaker terminals are high-grade, gold-plated screw type.
Control App for Easy Operations
Simply tap the beautifully designed screen and take control of all the audio equipment and all the music in your home.

Easily Select the Music Source You Want to Hear
The MusicCast App makes it easy to select and play songs from CDs and USB devices, as well as to select radio stations (FM). In addition, by using the MusicCast Link function, you can send those sources to other MusicCast compatible devices for enjoying them in other rooms.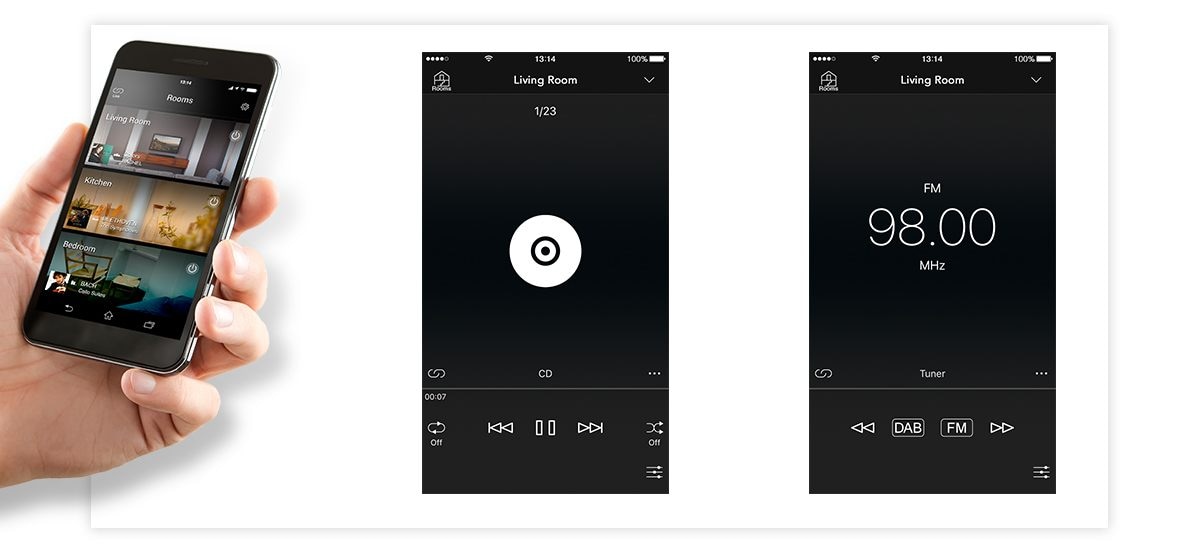 Stream via Bluetooth® or AirPlay®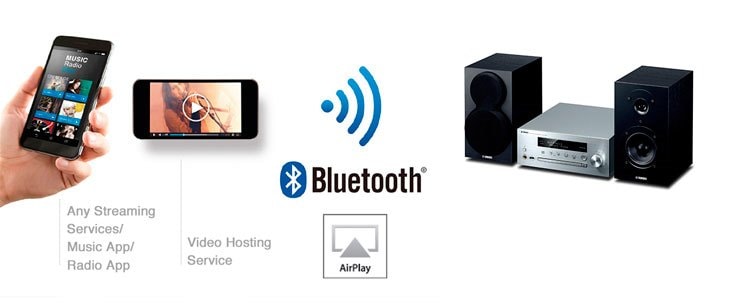 You can hear all the music sources from your smartphone via wireless Bluetooth or AirPlay connection. You can play music from music apps, radio apps, or YouTube™-type video hosting services.
Bluetooth Output for Convenient Music Streaming

The MCR-N470 is equipped with the latest Bluetooth technology, making wireless operation more convenient than ever. You can stream music from the MCR-N470 to Bluetooth headphones for private listening or to Bluetooth speakers.
Yamaha Eco-Product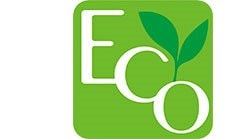 With an advanced energy saving design, this product achieves a low power consumption of not more than two watts when in Network Standby mode.
Die angezeigten Farben und Ausführungen können von den tatsächlichen Produkten abweichen.