MusicCast
MusicCast is a new revolution in network audio, use all your MusicCast products together or separately, it's completely up to you. Control it, all from one app, designed to be intuitive, quick and simple to use. Use a soundbar, a wireless speaker, an AV Receiver, HiFi audio whichever suits you best, mix and match then expand your MusicCast system as time goes on. All new from Yamaha, the MusicCast system brings everything to everywhere for everyone.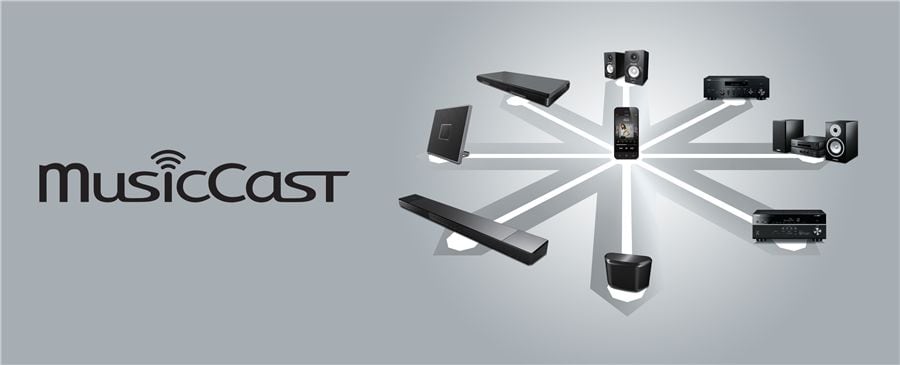 MusicCast Expands Entertainment Possibilities

MusicCast employs a high performance wireless network to deliver music and audio enjoyment. It can stream digital music content from your smartphone, PC or NAS to other MusicCast devices in your home. It can also share the music from external devices such as a TV or CD player connected to the NX-N500. Audio content from Bluetooth-connected devices can also be streamed to MusicCast devices in multiple rooms.
Präzision plus Musikalität Das Konzept für besten HiFi-Klang.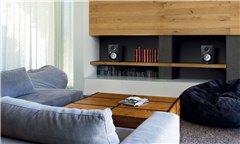 In der Tradition des legendären Studiomonitors NS-10M hat der NX-N500 auch dessen Präzision geerbt. Dadurch verfügt dieser moderne Lautsprecher über eine Musikalität, die in seiner Klasse einzigartig ist. Die klangliche Einstellung der linken und rechten Lautsprecher wurde mit einem Abstand von 2 bis 3m immer wieder überprüft und verfeinert. So entsteht ein ausdrucksstarkes Stereobild, in dem sich die Seele der Musik voll entfalten kann. Seidige und präsente Stimmen, eine fast greifbare Abbildung der melodischen Instrumente, ein musikalischer Gesamtklang und hochauflösende Wiedergabe – das ist unsere Antwort auf die Forderung nach Aktiv-Lautsprechern mit brillantem Klang.
The New Standard in Powered Speakers
Nowadays you want to get the most from the music on your PCs and other devices, not just your audio system. Our concept is that speakers should produce real listening pleasure. An analog amp with expansive sound. An all-new speaker unit for fully appreciating high resolution sound sources. Featuring full-spec USB DAC, and compatible with Bluetooth®, WiFi and other network systems. Why only be able to listen to music close to your desktop computer or TV? Make them your second HiFi system. Your ears have learned to tell the difference. Let them. A compact 2-way from Yamaha.

Discrete Configuration Analog Amplifier and Bi-Amp Drive Produce Sound with a Spectacular Feeling of Freedom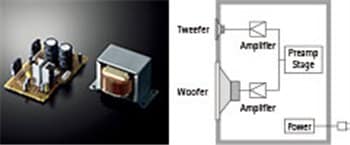 The power amplifier component, critical to powered speakers, utilizes a discrete configuration analog amplifier. It produces strong, expansive sound, all in a bi-amp system featuring a 45W woofer and 25W tweeter. By directly driving each unit individually, it produces powerful sound while maintaining the feeling of high S/N ratio.
Balanced Transmission and Balanced Connection Thoroughly Eliminate Sound Quality Degradation Due to Noise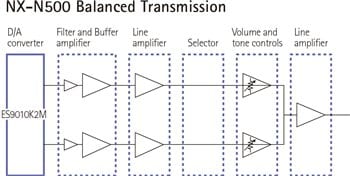 In principle, balanced transmission cancels the external noise that becomes mixed with the signal during transmission. In the NX-N500, all digital audio input signals undergo balance conversion in the L-channel speaker before being transmitted to the R-channel speaker. XLR cable is used to establish balanced connection between speakers. This approach thoroughly eliminates noise.
3cm Kalottenhochtöner für hochauflösende Wiedergabe und ein A-PMD 13cm Tieftöner.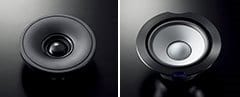 In seiner 2-Wege-Konfiguration mit zwei Lautsprechern nutzt der NX-N500 einen 3cm Kalottenhochtöner, der einen großen Frequenzbereich bis zu 40kHz abdeckt. So kann er die große Menge an Audio-Informationen, die von hochauflösende Quellen kommen, optimal abbilden. Dank des besonders dicken Waveguides zeichnet er sich durch eine entspannte und präzise Höhenwiedergabe aus. Für den Tieftöner kommt dieselbe New Advanced PMD Membran zum Einsatz wie bei den High-End Soavo-Modellen. Mit seinem satten, ausdrucksstarken Tiefton und einer unbeschwerten Höhenwiedergabe meistert der NX-N500 alle Frequenzebereiche mit Bravour.
Rigid Enclosure Specially Designed to Suppress Unwanted Resonance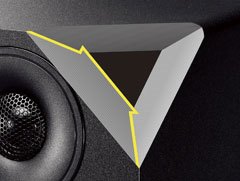 The enclosure employs thick MDF with high rigidity to produce uniform acoustic characteristics, and features the total three-way mitered-joint construction traditionally used in Yamaha high-end speakers. Suppressing unwanted resonance and highly accurate, it helps ensure that you'll hear sound with an outstanding sense of resolution.
High-Grade USB DAC Supports DSD 5.6MHz Native Resolution and PCM 384kHz/32-bit for High Resolution Reproduction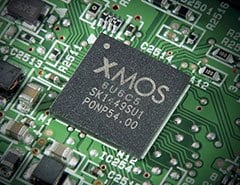 The NX-N500's high performance USB DAC is a full-spec PCM 384kHz/32-bit unit with support for DSD 5.6MHz native resolution. It is compatible with asynchronous transmission and can perform low-jitter transmission by using its own master clock, without being affected by the PC clock. It also makes use of an ASIO driver, it achieves lower latency and higher throughput and along with Windows PC compatibility, it's also compatible with MAC OS Integer Mode, allowing 32-bit playback even in MAC OS.
Außergewöhnlich leistungsstarker ESS 32-bit D/A-Wandler.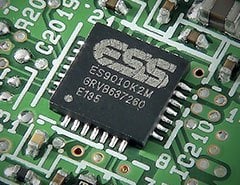 Beim D/A-Wandler des NX-N500 handelt es sich um einen ES9010K2M von ESS Technology, Inc. Er zeichnet sich neben präziser Umsetzung von 32-bit-Audiosignalen auch durch seine Fähigkeit aus, bei voller Kompatibilität mit PCM 384kHz und nativem DSD 5,6MHz große Datenmengen zu verarbeiten. Er bietet zudem kraftvollen Tiefton und einen präzise aufgelösten Hochtonbereich. Da der integrierte D/A-Wandler sein eigenes Master Clock-Signal erzeugt, ist auch eine Funktion zum Eliminieren von Jitter vorhanden, wodurch D/A-Wandlung mit minimalen Auswirkungen von Clock-Jitter gewährleistet ist.
Kabelloses Musik-Streaming via Bluetooth oder AirPlay
Genießen Sie Musik von Ihrem Smartphone oder Tablet ganz einfach kabellos per Bluetooth. Von Apple iPhone oder iPad können Sie auch die komfortable drahtlose Übertragung über AirPlay nutzen. Zudem wird der NX-N500 im Bluetooth-Standby-Modus je nach Bedarf automatisch ein- und ausgeschaltet.
Bluetooth Ausgang für bequemes Musik-Streaming

Der NX-N500 ist mit der neuesten Bluetooth-Technologie ausgestattet und macht die kabellose Audio-Übertragung dadurch einfacher als je zuvor. Streamen Sie Musik oder Film-Sound ganz komfortabel an Bluetooth-Lautsprecher – oder an Ihren Bluetooth-Kopfhörer für den individuellen Hörgenuss.
Easy setup with your smartphone or tablet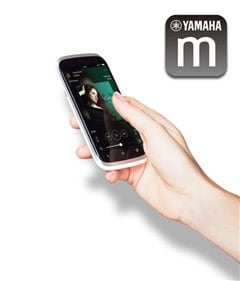 Use your smartphone or tablet together with the MusicCast CONTROLLER app to operate the speaker and change settings quickly and easily. The same Controller app functions as a remote control for all your MusicCast-compatible devices too.
Streaming Services Offer a Huge Range of Listening Choices
Support for the music streaming services Spotify, Pandora, Juke, Napster, Rhapsody and Sirius XM means you'll enjoy a wide variety of music content. Furthermore, support for the vTuner radio station database enables sampling of Internet radio broadcasts from around the world.
* Music service availability varies by region and may change or be discontinued without notice.
Indicator Displays the Speaker's Operating Status and Playback Sound Source

The front of the speaker provides an LED display indicator color coded by operating status: orange for ECO Standby mode, green for network function, pink for AirPlay and sky blue for USB DAC, allowing easy, making it very easy to confirm the music source currently selected.
Other Notable Features
• Remote control allows easy performance of basic functions such as power on/off and audio source selection
• Optical digital input compatible with 192kHz/24-bit